09:47
Annual growth hits six-year low
The annual growth figures also paint a worrying picture.
The UK economy only expanded by 1.4% in 2018, the weakest performance since 2012.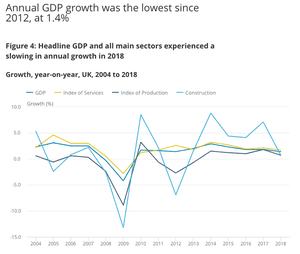 09:44
UK carmakers and steel producers had a particularly bad quarter, says Rob Kent-Smith, head of GDP at the ONS:



"GDP slowed in the last three months of the year with the manufacturing of cars and steel products seeing steep falls and construction also declining. However, services continued to grow with the health sector, management consultants and IT all doing well.

"Declines were seen across the economy in December, but single month data can be volatile meaning quarterly figures often give a better indication of the health of the economy.

"The UK's trade deficit widened slightly in the last three months of the year, while business investment again declined, now for the fourth quarter in a row."
09:41
Britain's services sector provided the bulk of the growth in the final three months of 2018.
Services output expanded by 0.4% in October-December, while manufacturing output shrank by 0.9% in the quarter.
And in December alone, services, manufacturing and construction ALL contracted, as this chart shows: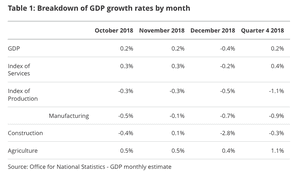 09:34
UK GDP fell 0.4% in December
In another blow, the UK economy actually shrank in December.
The Office for National Statistics reports that GDP shrank by 0.4% in the final month of 2018. That's worse than expected — economists had predicted that the economy might have flatlined during the month.
This will intensify fears that Britain's economy is suffering from Brexit anxiety, the trade war between the US and China, and weakness in the eurozone (where Italy has fallen into recession) and beyond.
Updated

09:30
UK GDP report released
Newsflash: The UK economy suffered a sharp slowdown in the last quarter of 2018, only expanding by 0.2%.
That's down from 0.6% in the third quarter.
More to follow…
09:25
There's just time for a reminder of GDP's weaknesses, with this brilliant speech by Robert Kennedy more than 50 years ago:
09:16
Household incomes takes £1,500 hit since EU referendum
Resolution, the thinktank, has a grim statistic — UK households are £1,500 worse off, on average, today than was expected before the 2016 EU referendum.
That's because growth has slowed, while the drop in the pound drove inflation up – eating into incomes.
According to Resolution, the UK having experienced the sharpest income growth slowdown of any advanced economy.
James Smith, Research Director at the Resolution Foundation, says:



"Two and a half years since the UK voted to leave the European Union, the country's post-Brexit position remains far from clear. There has been much discussion about the impact of this uncertainty on businesses, but not enough about its effect on household incomes.

"The UK's stark under-performance on income growth since 2016 – which has tailed off more than other advanced economies – has left UK households taking a £1,500 hit to their living standards.

"As we approach 'Brexit day' on 29 March, politicians in all parties needs to recognise how much is at stake for family living standards and that how the country goes forward, not just where it is heading, matters for household incomes in the here and now."
Director Torsten Bell has tweeted about the report too:
08:55
The pound is coming under a little pressure this morning, dipping by a third of a cent against the US dollar to $1.291.
That suggests traders expect an underwhelming GDP report this morning – weak growth lowers the chances of an early interest rate rise.
Brexit worries are also pushing sterling down, after Theresa May rejected the Labour Party's suggestion that the UK joins a permanent customs union with the EU.
08:43
Today's growth report is expected show that businesses reined in their spending, as they nervously watch the Brexit negotiations play out.
Paul Donovan of UBS Wealth Management suspects consumers will be less perturbed (plus, any Brexit panic stockpiling will boost GDP):



The UK is doing a data dump – production, trade and GDP numbers are all due. The economy may have slowed slightly in the fourth quarter. Overall consumers are resilient in the face of political nonsense, by taking the sensible approach of not caring.

Companies are, however, inclined to delay investment.
08:18
We already know that growth in 2018 was choppy — bad wintery weather got the year off to a bad start, before a blissful summer (and some sparking football results) cheered spirits.
Michael Hewson of CMC Markets explains:



After the strength seen in the middle of last year the UK economy softened somewhat heading into the final quarter. A lot of the strength seen in Q2 and Q3 was a consequence of a weak Q1 as a result of the so called "Beast from the East" which paralysed most of the country into March.

The resultant rebound was as much to do with that as a Royal Wedding, a hot summer, and a decent summer of sport culminating in a decent Football World Cup run for England.
07:52
It's UK GDP Day
Good morning.
Gross Domestic Product isn't a perfect measure. And that's no wonder — how can a single number sum up everything, good and bad, that happens in an economy?
GDP can't distinguish between activity that's actively harmful, and that which makes our lives better. It struggles to cope with the internet, isn't great at measuring improvements in services, and can't cope with unpaid work at all.
But despite these flaws, GDP is the 'go-to' measure for policymakers who want to know how their economy is faring. And today, Britain's economy is in the spotlight.
GDP figures for the fourth quarter of 2018, due at 9.30am, are expected to show a sharp slowdown. Economists predict that the economy only grew by around 0.3% in October-December, just half as fast as the 0.6% recorded during the heatwave of July-September.
Philip Shaw, chief economist at Investec, predicts that the economy may not have grown in December at all.



"Putting the pieces together, we are forecasting GDP to have remained unchanged in December, although it is possible that we see a very small gain," he said. "This results in a 0.3% rise [for the fourth quarter].

"We will look closely at business investment – the area which we consider to be the most affected by Brexit worries – and specifically to see if it recorded its fourth consecutive quarterly decline in the fourth quarter."
Here's Angela Monaghan's preview:
Such muted growth would reinforce concerns that the UK, and the wider global economy, is weakening. Brexit, the US-China trade wars, and political tensions in the eurozone will all be blamed.
Today's report will show how manufacturing, services and construction all fared in the last quarter. The Office for National Statistics will also report new trade figures, giving a decent picture of the health of the economy as we prepare for Brexit.
The agenda
9.30am GMT: UK GDP report for Q4 2018 released
9.30am GMT: UK trade balance for December
Updated