17:38

Dominic Rushe
Reuters is reporting that a meeting between Donald Trump and China's Xi Jinping to sign an interim trade deal could be delayed until December "as discussions continue over terms and venue."
US stock markets have hit record highs on suggestions that a trade deal is imminent, something Trump has been boasting about this week. They are now slipping back into the red.
17:17
Donald Trump will travel to New York City next week, to kick off the city's Veterans Day Parade.
According to the White House, Trump will offer a tribute to veterans at the opening ceremony of Monday's 100th annual parade.
Trump has been roundly booed in larger cities recently – see the Washington Nationals-Houston Astros game – and he is far from popular in NYC.
The president might see the Veterans Day ceremony as safer territory. But who knows.
According to the White House, Trump will offer remarks then lay a wreath at the Eternal Light memorial in Madison Square Park.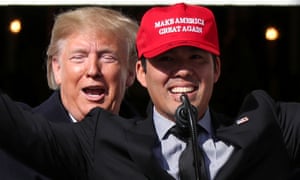 Updated

16:57
Roger Stone trial begins in DC
The trial of Roger Stone, a longtime advisor to Donald Trump, began this morning in Washington DC – a trial resulting from charges in Robert Mueller's Russia investigation.
Stone has pleaded not guilty to charges of obstructing justice and witness tampering. He is also accused of lying to the US House of Representatives Intelligence Committee about the Trump campaign's efforts to obtain emails hacked by Russia, which were published by the Wikileaks website.
The Guardian's David Smith – @SmithInAmerica – will be reporting and tweeting from court throughout the day.
16:42
The open hearings that Adam Schiff will be closely watched and could be incredibly revealing.
Bill Taylor's behind-closed-doors testimony was particularly damning. Taylor testified that Trump explicitly put pressure on Ukraine's president, Volodymyr Zelenskiy, to investigate former vice-president Joe Biden.
Taylor became the US's top diplomat in Ukraine after Marie Yovanovitch was removed. The Guardian's Luke Harding and Julian Borger reported that Taylor found in Ukraine:



It was clear that Trump wanted Zelenskiy to "investigate" two things. One was the conspiracy theory that Ukraine colluded with Hillary Clinton in 2016 to help her win the presidential election. The other was Burisma, the Ukrainian energy company where Hunter Biden – son of Joe Biden – had served on the board. The allegation, subsequently found to be untrue, was that Joe Biden had put pressure on the previous government of Petro Poroshenko to fire the prosecutor investigating Burisma, in order to help his son. Taylor said Giuliani was behind the "irregular policy channel" and that Trump would only meet with Zelenskiy if the Ukrainian president carried out these investigations. There was an explicit quid pro quo, Taylor suggested.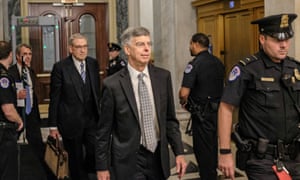 16:26
Public impeachment hearings will begin next week
Open impeachment hearings will begin on Wednesday November 13, Adam Schiff has announced. Bill Taylor, the US's top diplomat in Ukraine, and George Kent, deputy assistant secretary of state, will testify first.
Ukraine ambassador Marie Yovanovitch is due to appear on Friday November 15.
Updated

16:21
It seems flipping off Donald Trump is quite a successful campaign strategy: the woman who lost her job after famously giving Donald Trump's motorcade the middle finger in 2017 won a local government seat in Virginia last night.
15:56
Virginia Democrats are "promising swift action" on a host of liberal policy proposals after sweeping the state's legislature, according to AP.
Democrats took control of the state House and Senate – they already had Ralph Northam in place as governor – on Tuesday night, and will now push through gun restrictions and raise the minimum wage. From AP:



Northam said at a cabinet meeting Wednesday morning that he's going to push for the same gun safety laws he proposed at a special session earlier this year called in response to a mass shooting in Virginia Beach.

[Democrats] have also promised to approve the Equal Rights Amendment, making Virginia the final state needed for possible passage of the gender equality measure.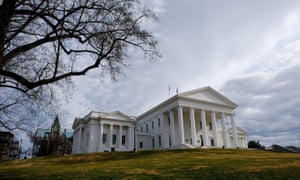 15:26
Tulsi Gabbard has repeatedly said she won't run as a third party candidate if (when) she fails to win the Democratic nomination. That hasn't failed to stop chatter about her potentially going rogue, however… chatter that Democrats appear keen to shut down:
The speculation about Gabbard running as a third party candidate is fueled in part by her unconventional fanbase, described by the New York Times as "an unconventional mix of anti-interventionist progressives, libertarians, contrarian culture-war skeptics, white nationalists and conspiracy theorists".
But Gabbard could also be becoming disillusioned with aspects the Democratic party. Gabbard recently claimed that Hillary Clinton said she was being "groomed by the Russian government". Clinton didn't actually say that, but it riled up Gabbard nonetheless.
Updated

15:12
Trump's EU envoy 'fabricated' parts of testimony – lawyer
Yesterday Gordon Sondland changed his impeachment inquiry testimony to confirm that the US president offered Ukraine a quid pro quo to investigate a political rival.
Now, it seems there are other aspects of Sondland's original testimony that might not have been entirely correct.
14:58
The Democratic presidential candidates are out in force today… Amy Klobuchar, Kamala Harris and Andrew Yang are in New Hampshire, Joe Biden is in Washington, DC, and Tom Steyer is doing something in Wisconsin.
Here's Klobuchar getting herself on the ballot in New Hampshire yesterday: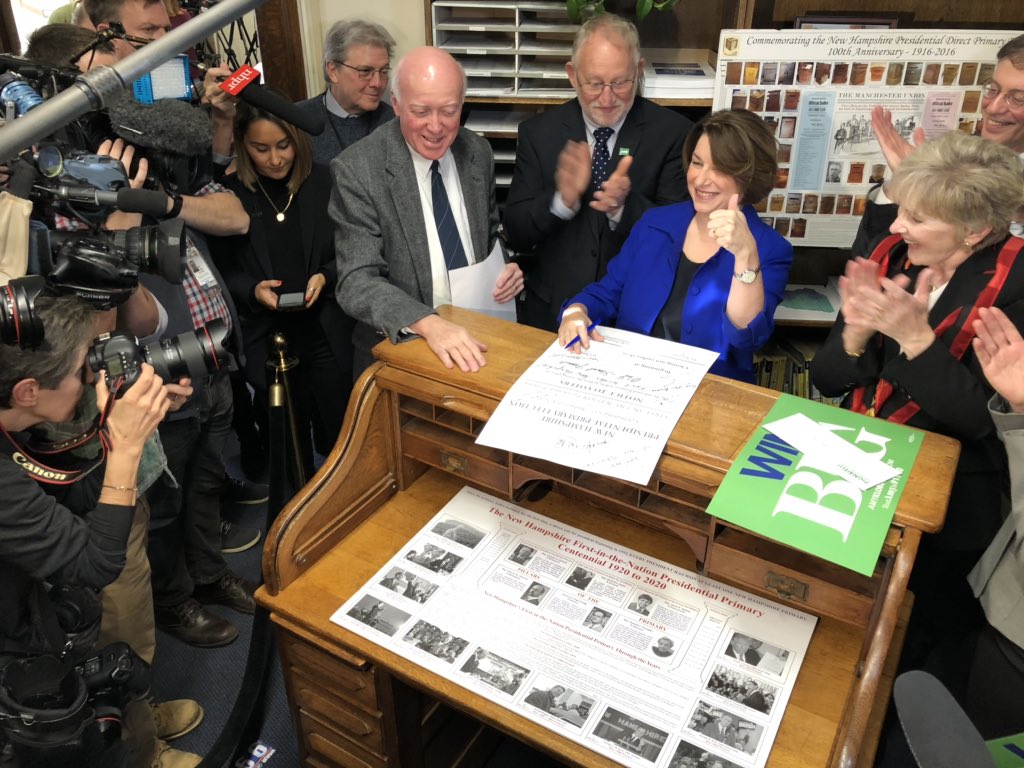 (And here is Tulsi Gabbard doing exactly the same thing yesterday.)
14:30
Trump distances self from Kentucky GOP loss
Donald Trump, true to form, is insisting that the devastating Republican loss in the Kentucky governor's election had nothing to do with him.
Early this morning Trump claimed Matt Bevin, the Republican incumbent in Kentucky, "picked up at least 15 points in last days" due to Trump's appearance at a rally with Bevin. The polls suggest otherwise, however.
According to a survey by Trafalgar Group, Bevin was actually five points ahead at the beginning of November – before Trump's rally. Make of that what you will. (And don't forget that Trump himself said on Monday that defeat for Bevin: "sends a really bad message".)
Meanwhile Trump, a man who famously managed to lose $1bn in less than 10 years, has also been tweeting out some financial advice.
Updated

14:20
David Hale is presumably being sworn in right about now. According to the AP report, Hale will tell Adam Schiff et al more about the circumstances behind Ukraine ambassador Marie Yovanovitch being hung out to dry after she was targeted by Giuliani and other Trump allies.
In her own testimony, released on Monday, Yovanovitch revealed her "shock" upon learning that Rudy Giuliani was running a shadow foreign policy that involved attacks on her reputation. When she reached out to the State Department to ask for some defense against smears against her, none was forthcoming.
Hale will apparently say that Pompeo worried defending Yovanovitch could lead to further delays in releasing military aid to Ukraine – and that the State Department "worried about the reaction from Trump's personal attorney Rudy Giuliani, also one of the strongest advocates for removing the ambassador".
13:58
Good morning! And welcome to live coverage of the day's political news.
•The State Department's third-ranking official will tell Congress today that political considerations were behind the agency's refusal to defend former Ukraine ambassador Marie Yovanovitch. According to Associated Press, David Hale will testify that Mike Pompeo, the secretary of state, decided that defending Yovanovitch would hamper efforts to free up US military funding to Ukraine.
•Hale's behind-closed-doors appearance on Capitol Hill comes as more testimony could be released in the impeachment inquiry: potentially that of Fiona Hill, Trump's former top Russia advisor.
•Meanwhile, Mike Pompeo, who is increasingly getting drawn into all this, is in Germany at a to meet with leaders on the 30th anniversary of the fall of the Berlin Wall. With him on the plane: State Department Counselor T. Ulrich Brechbuhl, who was subpoenaed to give testimony today. So it looks like that won't happen.
•This all comes against a backdrop of a strong Tuesday night for Democrats, of course. The party won control of Virginia for the first time in a generation after turning the state legislature blue yesterday, while the Democratic candidate for governor of Kentucky also claimed victory.
•Trump will be hoping to combat those losses when he holds a campaign rally in Louisiana tonight with Eddie Rispone, the Republican running in the state's upcoming governor's election.