15:06
Analyst Arne Petimezas of AFS Group is disappointed that the ECB hasn't announced a larger package today.
15:03
Ronald Temple, co-head of multi asset at Lazard Asset Management, says Mario Draghi is quite right to call for higher government spending:



"Today the ECB used more of its dwindling ammunition to try to stimulate growth. Draghi rightly emphasized the imperative of fiscal stimulus and structural reforms. Unfortunately, Eurozone governments have failed to deliver on this count for a decade now, in spite of ever lower financing costs.

The ECB has done its job; now it's time for the governments to step up."
14:58
Never play the Forex, folks.
After plunging earlier, the euro has now bounced back and is up around 0.15% against the US dollar today.
Economists are chewing through the technical details of the ECB's stimulus programme now.
Fred Ducrozet of Pictet Bank reckons some parts are actually 'less generous' than first thought, such as the 'tiering system' that will protect euro banks from more punishing negative rates.
14:36
Q: If governments don't heed your advice to boost spending, will the ECB be forced to resort to helicopter money?
Mario Draghi says the governing council hasn't discussed helicopter money [literally giving cash away to citizens].
It could be part of our strategic review in future, he adds (that will be conducted by his successor, Christine Lagarde).
And Draghi wraps up with another nudge to European politicians, saying:



Giving money to people is a fiscal policy task, not a monetary policy task.
That's the end of the press conference — I"ll post a summary and reaction now.
14:32
Q: What about criticism from politicians and bankers about negative interest rates?
Negative interest rates are a necessity to help us meet our mandate, Mario Draghi replies firmly.
He adds that 11 million jobs created in recent years, and insists that German citizens have benefitted from the ECB's stimulus measures [even though savers have been hit with lower interest rates].
Banks don't like negative rates, but they won't cause the collapse of the financial system, the president adds (well that's a relief!). Banks should focus on improving their own costs, he adds.
14:26
Eurozone bonds prices are surging, as investors react to the ECB's pledge to buy €20bn of new debt each month.
This has driven yields (or interest rate on the bonds) down.
Germany's 30-year bond is now trading at a negative yield again – meaning Berlin can effectively borrow for free!
That sounds like the perfect time to boost government spending, despite the German government's reluctance to run a deficit.
14:22
Draghi: German government should spend more to fight recession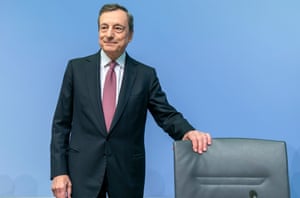 Q: Are you worried that Germany is in recession?
A eurozone-wide recession is a "small probability", Mario Draghi replies, but this probability has risen recently.
And on Germany, he points out that several institutes have warned that Europe's largest economy is already in recession [such as IFO this morning] or going into recession.
This is a case for "timely and effective action" on the fiscal side, Draghi replies. That's a very significant move — an unelected central banker is basically telling Angela Merkel to raise government spending.
He adds that central bankers need to be very humble when giving such advice!
14:18
Q: Are people right to be concerned about the negative side effects of QE and record low interest rates?
Draghi replies that the ECB is aware of the side effects of our monetary policy and we are closely monitoring all these effects.
14:14
Q: What would the ECB do if America deliberately weakened the dollar?
Draghi says that all G20 members are expected to abide by a consensus not to engage in "competitive devaluations" (currency wars).
14:12
Allianz's chief economist, Mohamed El-Erian, points out that the ECB has certainly weakened the euro – even though Draghi denies it is deliberate.
14:07
Draghi rejects Trump's criticism
Q: What do you think about Donald Trump's tweet?
ECB president Draghi steps forward and sweeps the president's attack aside.



We have a mandate. We pursue price stability and we don't target exchange rates. Period.
13:59
Draghi: Fiscal policy needs to take over
Onto questions….
Q: What was the mood like at today's meeting, as several members of the governing council had opposed restarting QE? (including the German and Dutch central bank chiefs).
Draghi embarks on a long explanation. He says the eurozone had slowed more than expected since June (when he gave a speech hinting at fresh stimulus). He also points to the lower inflation forecasts.
These, and the "persistence of downside risks", were factors behind today's decision, he says.
Draghi also points out that the ECB's base forecasts don't include a hard Brexit, even though it has become more likely recently, or a deeper trade war.
He's now picking out phrases from the ECB's statement – including the commitment not to raise interest rates until inflation is 'robustly' back on target.
But he can't put off the answer for ever….
Draghi says: There was unanimity….that fiscal policy should become the main tool (triggering chortles in the press room).
That feels significant — the ECB is saying that politicians can't rely on central bankers any more.
What we want to know, though, is whether the hawkish members of the governing council were unanimously behind Draghi.
And on that, the president say:



The consensus was so broad that we didn't take a vote.
#hmmm
13:50
Draghi ends his statement by calling on governments to raise spending, where possible, to give the eurozone a fiscal boost.