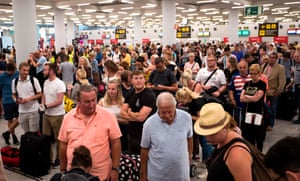 Good morning, and welcome to our rolling coverage of the world economy, the financial markets, the eurozone and business.
Why did the world's oldest travel company collapse? Why didn't a rescue plan work? Who is to blame?
A committee of MPs will seek answers to these questions today when they grill some of the former top executives from Thomas Cook, which lurched into liquidation three weeks ago.
The business committee will hear from five senior figures today including Peter Fankhauser, who was running Thomas Cook when it collapsed on 23 September, triggering the largest repatriation of UK holidaymakers ever.
The committee say:



Tuesday morning's evidence hearing is expected to focus on questions around Thomas Cook's rescue plan, corporate governance and the role of the Thomas Cook board, the debt taken on by the company, accounting practices, and the setting of CEO pay.
Fankhauser has already said he's "devastated" and "deeply sorry" for the demise of the company – and we may hear fresh contrition this morning.
But Thomas Cook's former top brass may also blame the government for not providing vital financial help. A £1.1bn rescue deal has been on the table, but vanished when the company couldn't raise another £200m
Thomas Cook's executives are already facing calls to return some of the large pay and bonus packages they received in recent years.
Fankhauser, and his two predecessors Manny Fontenla-Novoa and Harriet Green, received more than £35m in pay and bonuses between them over the last 12 years. Surely this money should be returned?
But this may not happen – due to a two-year limit on the "clawback" powers written into the contract of directors, if they are deemed responsible for the firm's financial downturn.
My colleague Rob Davies explains:



Peter Fankhauser was paid £8.4m during his tenure as chief executive at Thomas Cook, including £4.6m in bonuses, but the majority was paid in shares that he did not sell and are now worthless. Of the remainder, only one year's cash bonus falls within the two-year clawback limit, meaning the maximum he could be forced to return is £558,000.

The same applies to former finance director Michael Healy, who could only be forced to give back £465,000, a combined total of just over £1m.

That is less than the £1.5m than the Civil Aviation Authority is understood to have collected from Thomas Cook for providing advisors in the year leading up to its failure.
Here's the details of the hearing, in the Grimond Room at Portcullis House, Westminster:
Witnesses:
Peter Fankhauser, former Thomas Cook CEO
Frank Meysman, former Chairman
Sten Daugaard, former Chief Financial Officer
Martine Verluyten, former Chair of Audit Committee
Warren Tucker, former Chair of Remuneration Committee
The committee are planning to hear from Thomas Cook's auditors next week, with Fontenla-Novoa and Green also expected to be questioned soon.
Also coming up today
Bank of England governor Mark Carney is appearing before the Treasury committee to discuss financial stability this morning, and can expect plenty of questions about Brexit and trade wars. That session clashes with the Thomas Cook one, but we'll keep an eye on both.
New UK unemployment data is expected to show the jobless rate remained at 3.8% in the last quarter, very low by historic standards. But basic pay growth may have slowed to 3.7%, from 3.8% a month ago.
The International Monetary Fund publishes its latest World Economic Outlook later today. Its new boss, Kristalina Georgieva, has already said growth forecasts will be cut.
The agenda
9am BST: BEIS Committee hearing into the collapse of Thomas Cook
9.30am BST: Treasury Committee hearing with the Bank of England
9.30am BST: UK unemployment report.
2pm BST: IMF to publish its World Economic Outlook