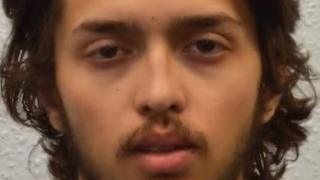 Sudesh Amman, the 20-year-old responsible for the attack in Streatham, south London, on Sunday, pleaded guilty in November 2018 to six charges of possessing documents containing terrorist information and seven of disseminating terrorist publications.
Three of the terrorist manuals Amman admitted owning were about knife fighting.
In fact, much of Amman's fascination with conducting an attack was said to be focused on using a knife.
He was jailed at the Old Bailey the following month for three years and four months.
I was there and recall Amman smiling as he was sentenced.
Streatham attacker named as Sudesh Amman
Streatham attacker under active police surveillance
He was automatically released from HMP Belmarsh on 23 January 2020 after serving half of his sentence in custody.
It is understood that he had since been living at a bail hostel in south London.
He was under a curfew and had to wear a GPS tag, coupled with exclusion zones such as ports and airports. He had to surrender his passport and had limited access to electronic devices and restrictions on his internet use
First arrest
Amman was first arrested in north London in May 2018 by armed officers on suspicion of planning a terrorist attack, although he was not ultimately charged with doing so. Scotland Yard said that, following consultation with the Crown Prosecution Service, "we did not charge with this offence."
The prosecution of Amman related instead to his ownership and distribution of terrorist propaganda and instructional manuals.
At the time, he was living in Harrow and studying science and maths at the nearby North West London College. Prior to that, Amman had studied at Park High School between 2011 and 2016.
He came to the attention of counter-terrorism police in April 2018 when a Dutch blogger made officers aware of postings on the Telegram messaging app.
The posts included a photo showing an image of a knife along with two firearms on a Shahada flag along with Arabic words meaning: "Armed and ready April 3".