18:21
TRY! St Helens 6-0 Salford (Knowles)
Walmsley spots a gap in the defence and passes the ball to Knowles who runs into the space and drops over the line just to the left of the posts. The try had been coming. Coote knocks over the conversion too.
18:19
14 mins: Salford move over the halfway line, which is a novel experience for them. Hastings whacks an up and under, which Coote predicts and takes it with ease. Their set of six ends with a great drilled kick from Coote to the try line, forcing Salford to start from deep once again.
18:17
12 mins: Makinson makes a dart after a scrum and the second tackle is moved quickly out wide where Coote takes control of it, beats a man but then tries to offload it and sends the ball straight out of play. A strange decision but a sign of how much Saints want to get on the scoreboard quickly.
18:15
10 mins: Coote puts up a kick on the final tackle, Evalds takes the ball in the air and is taken out while off the ground by Percival. Salford will be pleased with the extra yardage they earn from that.
18:13
8 mins: Salford are really having to grind to get up into St Helens territory and haven't got near the opposition line yet. They've had a few sets of six now and have had to kick from around the halfway line every time, allowing St Helens to run it out.
18:11
6 mins: St Helens are making most of the running here and are progressing down the pitch with relative ease. Their set ends when Coote is taken down while trying to find a gap on the final tackle.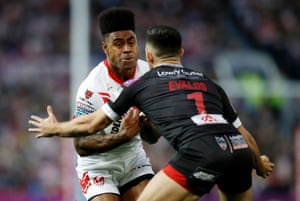 Updated

18:10
4 mins: Both teams certainly look up for this and are determined to take down their nearest opponent. Salford are penalise for a flop and St Helens get to crank it up for another set of six. Walmsley almost crashes through the defence but is just stopped short. There is a kick through, which bounces around but is eventually snaffled by a Salford player before things get more dangerous.
18:07
2 mins: An early knock-on sees the ball turned over by Mossop to St Helens. Saints look to take advantage and quickly push Salford onto their own goal-line. Fages tries to slip through on the final tackle but is taken down by Salford.
18:04
Richard Bridges is a Shed Seven fan, he says: "Hull KR fan watching in Poland (as you do) – loved seeing Shed Seven – looked as though Alan the drummer might have been wearing a York City Knights shirt too. Yorkshire's finest!"
18:03
The players are out of the pitch, their emergence greeted with fireworks and a wall of noise. Should be a cracking atmosphere.
17:59
We're getting closer to some actual rugby now as the ubiquitous Laura Wright belts out Jerusalem.
17:47
Live music at a sporting event is never a good thing, is it? What we have at Old Trafford is Shed Seven doing a weird advert for their upcoming tour.
17:42
Sky reminding us of Ben Flower being an idiot in the final against St Helens in 2014 is what we need in this build up.
17:40
Adrian Morley is desperate for Salford to win and believes they can do it, which is nice. Danny McGuire points out that St Helens are a lot better, so does Phil Clarke.
17:33
Leeds Rhinos are not at Old Trafford today but their women's team were victorious in the women's Grand Final yesterday when they defeated Castleford. They were behind at half-time but ended up winning 20-12.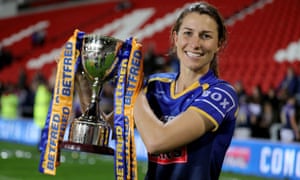 17:23
Jackson Hastings enjoying his Man of Steel award …
17:10
I think I have been brought in for this historic occasion due to my lengthy links with rugby league. When I was at school I played the sport and was called up to play for Salford schoolboys. I went to one training session where everyone was twice my size, so I decided it wasn't for me as I was never going to make it as a professional and I liked having my bones intact.
17:03
Starting lineups
St Helens: Coote, Makinson, Naiqama, Percival, Grace, Fages, Lomax, Walmsley, Roby, Thompson, Taia, Peyroux, Knowles
Subs: McCarthy-Scarsbrook, Amor, Ashworth, Smith
Salford: Evalds, Sio, Welham, Bibby, Inu, Lolohea, Hastings, Mossop, Tomkins, Dudson, Jones, Griffin, McCarthy
Subs: Lussick, Flanagan, Walker, Burke
Updated

13:09
Preamble
Good afternoon!
We have reached the finale. For the first time in a long time there is a chance of a surprise winner in the form of Salford who have defied plenty of odds with their rag-tag bunch to make it to Old Trafford. They performed some magic to put together a side to bring them to this unknown point. Jackson Hastings is the man at the heart of it and rightly won the Man of Steel but leading his side to victory at Old Trafford would surpass all that.
St Helens have been here and won it, so will not be fazed by the occasion and will have no qualms about being party poopers. They will also be aiming to pack Justin Holbrook off with another trophy in his last game as St Helens coach.
It should be a lively encounter.
Updated