08:07
Reuters: US drops demands for industrial subsidies
In another significant move, Reuters are reporting that Washington has watered down one of its key demands in the trade talks.
US negotiators are, apparently, no longer insisting that China curbs industrial subsidies as part of a deal to remove tariffs on Chinese goods.
Such a climbdown could help the two sides reach a deal (but also irk hawkish US policymakers who want to prevent Beijing tilting the playing fields).
Reuters says:



The issue of industrial subsidies is thorny because they are intertwined with the Chinese government's industrial policy. Beijing grants subsidies and tax breaks to state-owned firms and to sectors seen as strategic for long-term development. Chinese President Xi Jinping has strengthened the state's role in parts of the economy.

In the push to secure a deal in the next month or so, U.S. negotiators have become resigned to securing less than they would like on curbing those subsidies and are focused instead on other areas where they consider demands are more achievable, the sources said.
07:49
Introduction: Mnuchin fuels optimism over China trade talks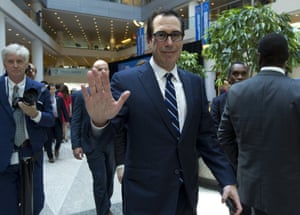 Good morning, and welcome to our rolling coverage of the world economy, the financial markets, the eurozone and business.
Investors are starting the new week with a spring in their step, on hope that Washington and Beijing are inching towards a resolution in their trade war.
With Brexit on the back burner, City investors are refocusing on the US-China trade talks….and welcoming upbeat comments from Treasury secretary Steven Mnuchin over the weekend.
Mnuchin told reporters in Washington that "we're hopefully getting very close to the final round of these issues," signalling that further face-to-face talks could be imminent.
Perhaps significantly, Mnuchin also that the U.S. is open to facing "repercussions" if it doesn't live up to its commitments in a potential trade deal with China. That could be a sign that the deal being drawn up has teeth.
As Mnuchin put it:



There are certain commitments that the United States is making in this agreement, and there are certain commitments that China is making.

"I would expect that the enforcement mechanism works in both directions, that we expect to honour our commitments, and if we don't, there should be certain repercussions, and the same way in the other direction.
We've been here before, of course — optimism doesn't always translate into concrete action. But both sides are keen to get a deal, especially after last Friday's import and export data showed US trade with China has slumped over 11% this year.
Mnuchin's comments sent shares higher in Asia, with China's Shanghai Composite index up 0.6%.
Japan's Nikkei surged by 1.4%, hitting its highest level since last December.
European markets are expected to post gains today too:
Also coming up today
Goldman Sachs releases its latest financial results before Wall Street opens; analysts predict that revenue fell 10% year-on-year in the first quarter of 2019.
Plus, the latest Empire manufacturing report will show how factories in New York state are faring this month, and whether trade tensions are hurting.
The agenda
Noon BST (estimate): Goldman Sachs results for Q1 2019
1.30pm BST: The New York Empire State Manufacturing Index released
Updated