21:05
GOAL! Liverpool 4-2 Everton (Richarlison 45+3)
This is absurd! Bernard is fed down the left. He crosses towards Richarlison, who sends a diving header into the bottom right! Actually on second glance, it's come off his shoulder, not that he cares too much. Everton are still in this! Just about.
21:03
45 min +1: There will be three added minutes. Everton are desperate to hear the half-time whistle. The small margins, though. Had Lovren not slid in to feather that cross away from Calvert-Lewin, it'd be 3-2 and game on. As it is, Everton are in all sorts of bother now.
21:03
GOAL! Liverpool 4-1 Everton (Mane 45)
Van Dijk heads the resulting corner clear. Mane scampers up the left, and sends Alexander-Arnold away down the wing. Liverpool are two on one, with Shaqiri free on the right. Alexander-Arnold bides his time, and eventually slips the ball right, not to Shaqiri, but to Mane, who had kept running. It's a perfectly weighted pass, begging to be hit, and Mane sidefoots it into the bottom left from the edge of the box.
21:01
44 min: Richarlison bustles into the Liverpool box on the right, and whips a lovely ball across the face of goal. Calvert-Lewin is waiting to run the ball home, but Lovren sticks out a leg to divert the ball away for a corner. A goal-saving intervention.
21:00
43 min: Van Dijk looks long for Mane down the right, but there's way too much juice on the ball, and it sails through to Pickford. Everton go up the other end, Bernard nearly sending Davies into the box with a cute flick down the left, but Alexander-Arnold toes the ball away just in time.
20:58
41 min: Calvert-Lewin chases a lost cause down the right. Robertson clumsily barges him in the back, and this is a free kick just outside the box, right on the byline. A very dangerous position. Sigurdsson takes, and finds the head of Keane, six yards out, but the defender can't guide home this time.
20:56
40 min: Richarlison spins down the inside-left channel and slips a pass inside for Iwobi, who has a chance to shoot from the edge of the D. Iwobi hooks a strange effort wide left and high. Adrian had nothing to do.
20:55
38 min: Wijnaldum juggles the ball down the right, setting Shaqiri off into space. Shaqiri plays Mane in on the overlap. Mane crosses low, forcing Pickford to parry away from goal and into the heart of the area. Fortunately the ball falls to a blue shirt and Everton can clear their lines. But that was risky.
20:53
36 min: Everton's heads have momentarily gone. They are all over the shop at the back. Milner floats a ball in from the left for Shaqiri, who is outjumped by Keane. Corner … from which nothing happens.
20:52
35 min: Everton make a tactical change. Djibril Sidibe is hooked, with Bernard coming on. Everton will play four at the back, with Mason Holgate taking the departed Sidibe's slot out on the right.
20:50
33 min: Keane clatters into Mane in the midfield. No yellow.
20:49
GOAL! Liverpool 3-1 Everton (Origi 31)
This one came out of nowhere. Lovren pings a long pass down the middle. Origi takes it out of the sky with his right peg, then opens his body to sidefoot a lob past Pickford and into the net! Shades of Luis Suarez versus Newcastle. What a touch to kill that long ball!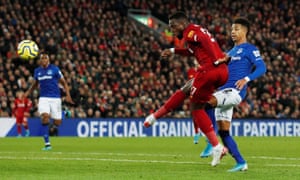 Updated

20:47
30 min: It's getting a bit dirty. Richarlison is late on Shaqiri, studding his left ankle. He sees yellow. Like Alexander-Arnold before him, it could easily have been a red.
20:46
29 min: Now Liverpool want a penalty, as Mane tumbles while chasing a pass down the inside-left channel. They're not getting one. He clattered into Sidibe, but the defender took the ball cleanly, face on.
20:45
27 min: Alexander-Arnold is booked, quite correctly, for a late stamp on Digne's foot. Another referee might have brandished red. Liverpool's young full-back needs to calm down quickly, or he'll be the latest in a long line of players to take an early bath in this fixture.
20:43
26 min: No penalty. Probably the correct decision, there didn't seem much contact from behind. Either way, VAR isn't interested.
20:43
25 min: Liverpool play a high line. Iwobi busts it open with a pass down the right, releasing Calvert-Lewin on goal! The air is sucked out of Anfield. An equaliser looks on the cards … until Calvert-Lewin falls just inside the box, Van Dijk pressurising him from behind. The ball squirts wide right of goal. Everton want a penalty. And there's going to be a VAR check.
20:41
23 min: Richarlison isn't particularly happy as Alexander-Arnold lands on his leg, studs first. It looked like an accident, though Richarlison clearly doesn't think it was. The referee gets in between the pair and calms everything down.
20:40
22 min: That was very scrappy from Liverpool's point of view. On the touchline, Jurgen Klopp looks furious. As he fumes, Lallana is stripped of possession while faffing about. Iwobi can't quite feed Richarlison down the inside-right channel. Had he got the pass right, he'd have freed his team-mate into the box. Anfield is suddenly a very tense place.
20:38
GOAL! Liverpool 2-1 Everton (Keane 21)
Everton work a short corner back up the right flank. Iwobi suddenly cruises into the area down the channel and feeds Keane, who breaks through a poor Lovren challenge and lifts the ball over Adrian and into the net. Game back on!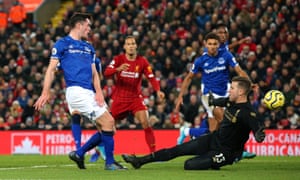 Updated

20:37
20 min: A free kick for Everton out on the left. Digne's delivery is no good, but Robertson slashes at a clearance wildly, and shanks the ball out for a corner on the right. From which …
20:36
19 min: Klopp's team selection, eh. Everton try to bounce back quickly, winning a corner out on the left. Mina heads it well over the bar.
20:35
GOAL! Liverpool 2-0 Everton (Shaqiri 17)
Another stunner! Alexander-Arnold, deep on the right, sprays a widescreen pass to Mane out on the left. Mane drifts infield and slips a ball down the inside-left channel. Shaqiri, barrelling in, sticks out a leg and delicately guides the ball past the outrushing Pickford and into the empty net. What a goal that was.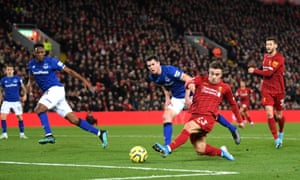 Updated

20:33
16 min: Robertson clips Davies from behind, then falls on his back. Davies isn't happy at all, and springs up with a view to throwing hands. Robertson smiles malevolently, not wholly unlike the bit in Trainspotting where Renton gets whacked by a car and then grins at the driver through the windscreen.
20:31
14 min: Lallana has a dig from 25 yards. His shot is wide left, and he'd used his arm while chesting the ball down anyway. Free kick.
20:30
13 min: Everton are asking a couple of questions, though. Another game of bagatelle in the Liverpool box ends with Richarlison and Calvert-Lewin kind of getting in each other's way, when a shot from 12 yards looked on. Eventually the ball's shanked wide right. They too should have done much better. This is a nice, open, free-flowing match.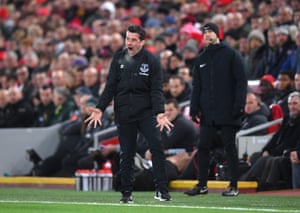 Updated

20:29
11 min: Mane is sent clear down the inside left by another raking Van Dijk pass. He should at least get a shot on target, but checks back and shifts inside in order to get a better angle. He allows Mina to get back to block. Should have done much better.
20:27
10 min: Iwobi strips Robertson of possession and drives down the inside-right channel. It's a promising attack, but Milner comes from behind and a superb textbook sliding tackle stops Iwobi in his tracks.
20:26
9 min: Lallana spins up and down the left touchline, nearly getting the better of Sidibe … but not quite. Liverpool are looking sprightly, energised by that early boost.
20:24
8 min: Keane flings a ball into the Liverpool area from the left. Adrian claims, then gets into a spat with Calvert-Lewin. Two grown men, and all. Van Dijk breaks it up with a smile.
20:24
GOAL! Liverpool 1-0 Everton (Origi 6)
Last season's hero is at it again! There's a little bit of pinball in the Liverpool box, started by Richarlison. Robertson clears. Mane picks up possession out on the left, then plays one of the passes of the season, curling a perfectly weighted one to the feet of Origi, who doesn't have to break stride to collect the ball and round Pickford in one smooth movement, before rolling into the net. That was a delight.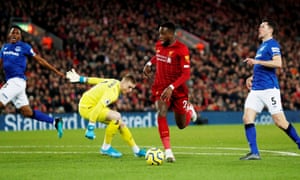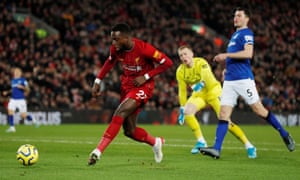 Updated

20:22
5 min: Iwobi sends Calvert-Lewin scampering down the right wing, but the striker looked offside and the whistle goes anyway. Turns out Iwobi handled while chesting down.
20:21
4 min: A scrappy passage of play in the middle of the park. Everton will be happy enough, especially as its quietened the home faithful a tad.
20:20
2 min: Mane and Mina clashed heads when the Liverpool man headed over. Trainers on to look at them both. They're good to go again. The Amazon picture shifts out of focus, art imitating real life.
20:18
1 min: Origi has an early dribble into the Everton box, but it's a dead end. Everton clear. Liverpool come straight back at them, Robertson tearing down the left after a long Van Dijk pass. He crosses for Mane, who heads over from 12 yards.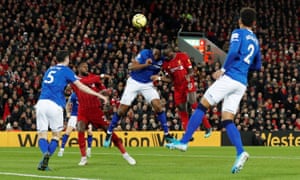 Updated

20:17
And we're off! Liverpool get the ball rolling, defending the Kop end in the first half, which is how they like it.
20:16
Here come the teams! Some breaking news, and a Guardian world exclusive: Liverpool will play in red while Everton sport blue. Here's another thing you don't need me to tell you: there's a cracking atmosphere in Anfield ahead of the Merseyside derby. You Never Walk Alone gets a belt out, while the Everton end sing in defiance. And finally all four corners of the ground give a round of applause for the continued bravery of the Hillsborough families. Justice for the 96. We'll be off in a minute or two.
20:02
Marco Silva talks! "It is a tough match. It is a special game for both teams and for the city. We should forget their position in the table and the record in the last 20 years; it is an opportunity. Just because they have changed players, they have not changed their DNA and will be a strong team for sure. I see a really strong side to play against. It is important we keep the good things we did against Leicester. Some of the other things we should improve, the way we managed the game. It is a challenge. I would like to see the same Everton I saw here last season."
19:58
Some pre-match jitters in the LFC fanbase. "The film critic Pauline Kael said that Brian de Palma films were so tense you wanted someone to hurry up and get killed so you could have a breather," writes Ian Copestake. "I find myself almost feeling the same about the agonies one goes through watching Liverpool remain unbeaten. But please, not now! Not to them!"
Anthony O Connell adds: "That team Klopp has picked tonight is worrying. Very, very worrying. Lallana in central mid, too light. Origi a great sub, not a great starter."
"Great to see Shaq getting a start," begins Alyson Douglas. "Not so much confidence in Lallana."
And finally here's Alex Davies: "Perhaps you can reassure me – it may just be my inner pessimist – but I can't shake the feeling, looking at this lineup, that Klopp has gone utterly mad."
It's almost as though everyone can suddenly feel Pep's breath on the back of their neck, in the wake of Manchester City's 4-1 win at Burnley last night. A title race, right here.
19:50
Jurgen Klopp talks to Amazon Prime. "One change I had to make, the other four we wanted to. We did it because we can do it. I have said a lot of times we have the squad. It will be intense. It's a very important game for both sides, but you try to fight as hard as you can for the three points. It's all clear, it's a very difficult game, I don't care about the stats and history. It is nothing we think about." He also praises Everton, their fans and representatives for their support over Hillsborough during recent trying times. "The people in the city stand together, we are 100 percent united."
19:43
Don't forget, there are five other Premier League games taking place tonight. They've already kicked off. Simon Burnton has your back.
19:28
Adrian talks to Amazon Prime. "It is my first derby with Liverpool. I hope we have a great night. I am really happy to be back, it is an opportunity for me, and I'll try to give my best. We need some fresh legs as we have many games in front of us, a heavy schedule. We have quality enough to play any game with any kind of player, we have a big squad."
Alex Iwobi's making his first appearance in a Merseyside derby too, and he's also been chatting to the new broadcaster on the scene. "I'm excited. I'm no stranger to a derby as I'm used to one in north London. We did very well at Leicester, there's a lot of positives to take and bring into this game. The pressure's on all of us, but that's why we are professionals and we'll do our best. We're not afraid, we go out there to battle and do our best. If we get a result it'll turn our season around."
19:22
Liverpool make five changes to the XI sent out against Brighton last Saturday. James Milner and Adam Lallana replace Jordan Henderson and Alex Oxlade-Chamberlain in midfield. Adrian deputises for the suspended Alisson in goal. And up front, a couple of big and perhaps surprising calls, as Xherdan Shaqiri and Divock Origi allow Roberto Firmino and Mohamed Salah to put their feet up on the bench. It's the Powercube's first start in the Premier League since January.
Everton name the same XI so unlucky to lose at Leicester. Another 5-4-1 it is, then.
Updated

19:19
The teams
Liverpool: Adrian, Alexander-Arnold, Lovren, van Dijk, Robertson, Wijnaldum, Lallana, Milner, Shaqiri, Mane, Origi.
Subs: Keita, Firmino, Salah, Gomez, Henderson, Oxlade-Chamberlain, Kelleher.
Everton: Pickford, Sidibe, Holgate, Mina, Keane, Digne, Iwobi, Davies, Sigurdsson, Richarlison, Calvert-Lewin.
Subs: Baines, Walcott, Tosun, Schneiderlin, Bernard, Kean, Lossl.
Referee: Mike Dean (Wirral).
19:12
Two banners. Posted without comment.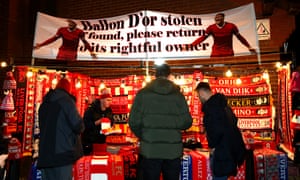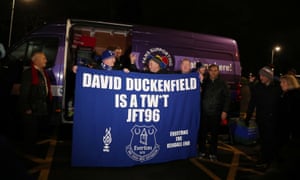 18:22
Preamble
Everton haven't had much luck in the Merseyside derby of late. It's been 19 matches since they won one of them, when Tim Cahill and Mikel Arteta saw off Mr Roy's Reds in 2010. And it's been 20 years since they won at Anfield, their last triumph in their old home courtesy of a Kevin Campbell goal. God speed, Toffees.
Liverpool are currently eight points clear at the top of the Premier League, while Everton hover just a couple above the relegation zone. So it's not just the history books that Marco Silva's side are up against; the current form book suggests only one likely result, too. But a quick flick through our third tome – the great big book of hoary old cliches – will tell you that form goes out of the window in a derby. So …
… there is hope! For starters, Everton usually give Liverpool a proper game. They were the better team at Anfield last season, only to be undone by Jordan Pickford's surreal late error, while they were awkward and cussed in a goalless draw at Goodison that handed title advantage to Manchester City. It's been a while since Liverpool have had it easy against their neighbours.
And while Everton have injury problems of their own – no Jean-Philippe Gbamin, Andre Gomes, Fabian Delph or Seamus Coleman – Jurgen Klopp's side is depleted in a couple of important positions. They'll miss Fabinho's midfield glue until the New Year, while keeper Alisson is suspended after his reckless red card against Brighton.
So can Everton spring a surprise that may save Marco Silva's job? Or will Liverpool keep onwards and upwards in their relentless pursuit of that elusive Premier League title? We'll find out soon enough as the 234th Merseyside derby plays out in front of our very eyes. It's on!
Kick off: 8.15pm GMT.
Updated