Hundreds of masked protesters fought running battles with riot police in central Paris on Saturday, with cars torched, banks burnt, shops smashed and raided and makeshift barricades set on fire on the edges of anti-fuel tax demonstrations near the Arc de Triomphe.
More than 250 people were arrested and at least 100 people – including 14 police officers – were injured after authorities said extreme-right and far-left troublemakers had clashed with police who fired teargas and water cannon.
There were also clashes close to department stores on Boulevard Haussmann and near the Tuileries Garden and the Jeu de Paume gallery, as protesters spread out around central Paris in a game of cat and mouse with police.
The "gilets jaunes" (yellow vests) protests, which began two weeks ago as a spontaneous citizens' movement against rising fuel taxes have morphed into a much broader anti-government protest movement about inequality and poor living standards.
The gilets jaunes – named for their high-visibility, fluorescent jackets – have clear support from the general public and are proving the biggest headache yet for the centrist, pro-business president, Emmanuel Macron, who was taken by surprise by the anti-tax revolt.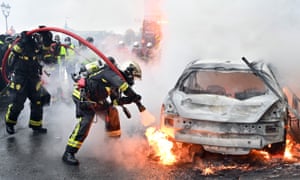 Authorities on Saturday stressed the difference between peaceful protesters who marched along some Paris streets, singing and waving flags, and the violent clashes between police and masked men that took place on some of the city's most expensive streets near the Arc de Triomphe, amid burning cars and clouds of tear-gas.
Some 5,000 peaceful gilets jaunes demonstrators marched down the Champs Élysées at midday on Saturday, some carrying roses, many shouting: "Macron, resign!" and singing the national anthem. The Champs Élysées was closed to cars and tightly monitored by police, with identity and bag checks taking place as shop workers boarded windows and dismantled outdoor terraces.
Galeries Lafayette and other department stores were closed in central Paris because of the escalating violence. Nearby Métro stations were also closed.
Elsewhere in France, more than 75,000 gilets jaunes demonstrated in cities or blocked roads and toll booths, some briefly stormed the runway of Nantes airport and others blocked supermarkets and major motorway junctions. There were 580 roadblocks across the country.
In the past two weeks, hundreds of thousands of protesters have barricaded roads and blockaded toll booths and fuel depots across France, complaining that Macron's pro-business fuel tax policy was unfair and that people in low-income jobs could not make ends meet.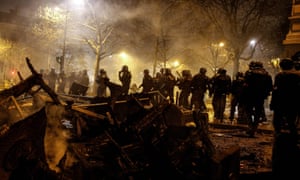 But in Paris, violence escalated as masked men throwing projectiles at police fought running battles with lines of riot police near the Arc de Triomphe. Early in the day, the French interior minister, Christophe Castaner, tweeted that "1,500 troublemakers" were in the Champs Élysées area.
"The yellow vests will triumph," was daubed across the facade of the 19th-century Arc de Triomphe monument in large black letters – and greeted with condemnation from politicians.
Many gilets jaunes protestors spoke out against the violent skirmishes on the edge of the demonstrations.
"What message do the yellow vests want to pass today? That we set France on fire, or find solutions? I find this [violence] absurd," Jacline Mouraud, a prominent activist within the yellow vests movement, told BFM television.
However, another gilets jaunes protester said: "The government is not listening. Revolution cannot happen without violence."
Jean-Luc Mélenchon, the head of the leftwing France Insoumise party, described the protests as "a process of citizens' revolution".
Macron said last week that he understood the anger people felt over the rise in fuel tax. He promised three months of national talks on how to transform France into a low-carbon economy without penalising people on low-incomes who had to drive to work.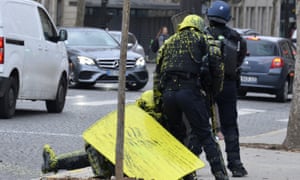 But government attempts to negotiate with the movement – some of whose members are demanding a moratorium on January's tax rises – have not calmed the protests.
"We want our dignity back and we want to be able to live from our work, which is absolutely not the case today," Jason Herbert, a spokesman for the movement, said after walking out of talks with the prime minister, Edouard Philippe, on Friday.
Hundreds of people have been injured and two people have been killed in car accidents since the protests began on 17 November. Polls continue to show that the demonstrations are supported by most French people. The protests have also spawned copycat demonstrations in Belgium.