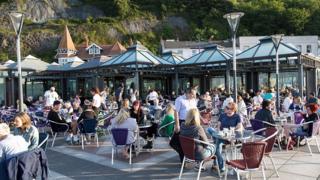 The UK economy grew by 0.7% in the three months to August, buoyed by the hot summer, the Office for National Statistics said.
But the ONS said that in August, GDP growth was flat. Economists had predicted 0.1% growth
The three-month measure was the fastest pace of growth since February 2017, economists said,
The ONS's head of GDP, Rob Kent-Smith, said the economy had "continued to rebound strongly after a weak spring".
He said "retail, food and drink production and house building all performing particularly well during the hot summer months".
"However, long-term growth continues to lag behind its historical trend," Mr Kent-Smith added.
The ONS has introduced monthly measures of GDP and provides three-month rolling growth figures rather than the quarterly figures it published in the past.
Data last month had shown the economy grew by 0.3% in July.
Andrew Wishart, UK economist at Capital Economists, said the three-month 0.7% figure was higher than the 0.6% expected because of upward revisions to earlier data.
"Rolling three-month growth in the services and construction sectors eased compared to July, but this was offset by industrial production recovering from its recent contraction," Mr Wishart said.