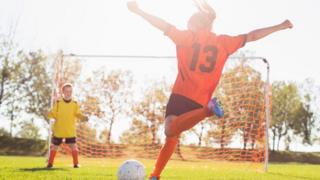 A 13-year-old girl who dreams of playing football professionally says she has been criticised and called "a lesbian" for playing a "boy's sport".
Darcie, 13, from Cwmbran in Torfaen has been playing football since she was eight.
But she has been told by PE teachers that she cannot play it as a recommended sport at school – instead hockey and netball are for the girls.
Children's Commissioner for Wales said gender stereotyping was "depressing".
Darcie said she was determined to challenge the attitude.
"I want to play football, and I don't want someone to criticise me," she said.
"They have criticised me a lot by saying I'm a man or a lesbian. They've just called me all different types of names."
Darcie, who is a central midfielder for a local football team, said it was not just boys who were responsible, with some parents shouting "don't let a girl tackle you" as well.
Women's football 'needs more support' in Wales
'Telling boys they throw like a girl puts girls off sport'
She said she had asked to play football in school but had met some opposition.
"Girls' sport is hockey, netball, dance and all that and the boys' is basketball, rugby or football.
"I ask my PE teachers if I can play football, can I do that as a recommended sport and they say no because it is a boy's sport.
"I think it is wrong that people criticise girls for playing football because it is something they want to do and they love."
The Children's Commissioner for Wales, Sally Holland, said it was "depressing" to hear girls and boys complaining about gender stereotyping in this day and age.
"Girls say that there's often very little opportunity to take part in football and rugby," she said.
"Sometimes they have clubs where they can take part but it is not part of their core PE lessons.
"It makes girls and boys think their life has got to be constrained perhaps into one pathway or another and it is just a real harm that they can be turned off sport and exercise."
She described the sex-segregation in lessons as "surprising" in 2018 but reflective of wider attitudes in society.
Dr Nalda Wainwright, the director of the Welsh Institute of Physical Literacy, said the reliance on "traditional sports" in school is a hangover from the post-war period with the introduction of the 1944 Education Act.
"It is really down, I suppose, to the training of teachers. We know we have a real lack of expertise, particularly in primary schools," she said.
"It is not really a specialist subject and teachers will tend to replicate the experience they had."
The National Education Union and the National Association of Head Teachers have been asked to comment.
The Welsh Government declined to comment.