Exeter have never won more than three matches in the Champions Cup pool stage. They will need to win in Munster in January if they are to improve that record, and make the knockout stage, after failing to exploit the dismissal of the Castres No 8 Maama Vaipulu on 36 minutes for a head-high challenge.
Vaipulu hit Luke Cowan-Dickie's jaw with his left shoulder as the Exeter hooker made a supporting run without the ball and became the latest victim in the crackdown on challenges that make contact with an opponent's head. Cowan-Dickie did not appear for the second half and Castres got away with three other high challenges.
Exeter led 14-0 after 11 minutes, allowed to indulge themselves by a Castres side that appeared not to have bothered analysing last season's Premiership finalists. The Chiefs received the ball from the kick-off and hogged it as the French champions set players deep for kicks that never came and left holes in their defensive line.
Exeter's wings Jack Nowell and Santiago Cordero gleefully exploited mismatches with tight forwards and the latter scored the first try after seven minutes. It came after Castres had won a turnover which they wasted when the scrum-half Ludovic Radosavljevic joined the ruck even though the ball had been presented and his half-back partner Julien Dumora chose to direct his backline rather than seize possession.
The Chiefs' second-row Ollie Atkins helped himself. Exeter moved the ball right, Cordero appearing off his wing and jinking into space before finishing off from 25 metres. Castres had still to mount an attack four minutes later when Exeter kicked a penalty to touch and the home side contested the lineout. That left a gap in the middle and Matt Kvesic appeared out of a mass of bodies to score. Castres looked bewildered but the game turned when they scored from their first assault in the Exeter line after kicking a penalty to touch. They set up a ruck and switched play from right to left before Dumora's inside pass to his centre Florian Vialelle left Don Armand flat-footed.
Castres changed tactics, the breakdown becoming their battleground. They contested zealously, slowing down Exeter's possession and so flooding the midfield that the Chiefs were unable to get the ball wide or persist with multi-phases. Nowell touched the ball eight times in the opening 10 minutes but saw it only three more times before the break as his side had to resort to kicking.
After Dumora had kicked a penalty for obstruction, the former Leicester forward Steve Mafi marched through three tackles only to pass the ball to no one with the line beckoning. Dumora dropped a goal to reduce his side's deficit to a point and after 29 minutes put Castres ahead after aggressive counter-rucking forced Exeter to hold on.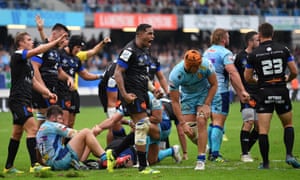 It was now Exeter's turn to look confounded. They had to grapple with the breakdown being far more a contest for possession than they were used to in the Premiership. The influential Dumora hobbled off but the first act of his replacement Yohan Le Bourhis was to kick a penalty.
Castres were rampant, but Vaipulu's red card jolted them. Gareth Steenson ensured Exeter went into the interval level after charging down Le Bourhis's clearance kick and the second half was set for the Chiefs to reassert their initial dominance of possession. Castres may not have made much of an impact in Europe over the years, but they invariably turn up in front of their supporters and they played as if they had an extra man. They regained the lead they were not to lose after 45 minutes when Mafi powered through Tom Lawday's challenge and stepped away from Phil Dollman in the manner of a wing.
Exeter's attacking threat tended to come from deep, Lawday making two telling breaks before being replaced, but as their problems at the breakdown continued they were unable to apply sustained pressure and the only time they looked potential winners was at the end when they kicked a penalty to touch.
Steenson had by then kicked two penalties to one from Le Bourhis, who missed another and hit the post with a drop goal. Henry Slade was in the sin-bin after shoving Vialelle as they chased the home centre's kick to the Exeter line. Castres again conceded the throw, succeeding in deflecting the ball forward. It meant a scrum but they had been comfortable in that set piece and as Exeter prepared to mount their final attack, the Chiefs' tight-head Tomas Francis buckled under pressure and a team that has cracked the Premiership continues to show cracks in Europe.