12:33
2 min: Christensen sprays a lovely pass wide left for Azpilicueta. Where's Sidibe? Who knows. After his first-half horror show at Anfield, that's a worrying early sign. Fortunately for Everton, the Chelsea captain rolls a poor pass, intended for Pulisic, out of play for a goal kick.
12:31
It's fourth versus 18th, and Chelsea get the ball rolling. A bit of early to and fro in the middle of the park.
12:29
The teams are out! The Theme from Z-Cars blares out of the Goodison speakers, and there's a cracking atmosphere at the old place. "When Evertonians have their blood up, there's no better place to play football," Duncan Ferguson says in his programme notes. A huge reception for the big man as he arrives fashionably late. We'll be off in a minute.
12:20
On the subject of Christmas … our old pal Mac Millings really has excelled himself here.
You know Basham and Ansu
And Draxler, Eriksen
Coman and Kewell
Maradona, Lee Dixon
But Stuart McCall the most famous reindeer Fitz Hall?

Mou-dolph and Harry Kanedeer
Had a Dele Alli, Rose
Kanté, Firmino, Sané
Hughes, Wijnaldum, Salah (Mo)

Oliver Kahn, Der Kaiser
Eustace, Pfaff and Collins (James)
They never let poor Mou-dolph
Jonny, Nani, David James

Juanfran, Oggy, Tiss, Nasri
Sancho, Keïta, Shay
Mou-dolph, Withe, Sarr, Jones, Mark Bright
Wanchope, Divock, Leighton, Wright

Stam, Dahlberg, Reina, Lovren
Juande Ramos, Sammy Lee
Mou-dolph and Harry Kanedeer
Dunga, Downing, Summerbee!
I know, I know, we shouldn't encourage him. Season of goodwill, though, innit.
Updated

12:11
And now here's Frank. "It's a potentially more dangerous game for us. Whenever there's a change there is often a bounce back. Factor in a club legend like Duncan Ferguson, and the way he played the game, I expect them to have a real go. It could be a tough match for us. We need to counter that with how we play, our aggression. We were really good against Villa, so I've given the players another chance to go, and expect more of the same from us."
12:08
A brief word with Big Dunc. "We're going to be positive. Make sure everyone's got a smile on their face. We've picked them up." He's suited and booted, so Paul Scholes will be happy.
12:00
Blue Xmas. A couple of reminders that Christmas is coming. Here's a chap in a bonny sweater …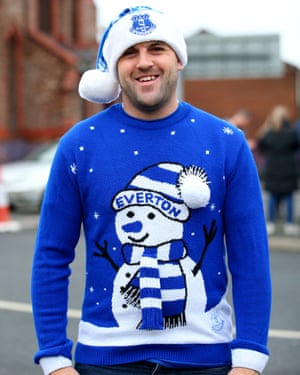 … and then there's this page-seven fella.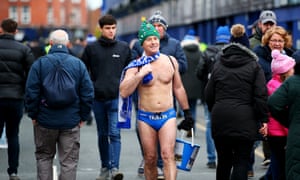 11:55
Everton will wear their famous blue shirts …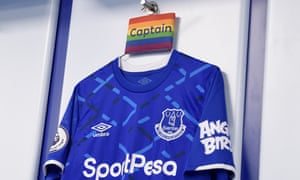 … forcing Chelsea into second-choice black.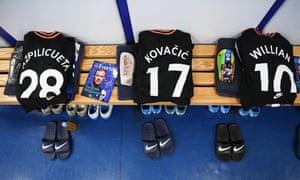 11:36
Duncan Ferguson makes two changes to the Everton team battered at Anfield on Wednesday night. Theo Walcott and Morgan Schneiderlin come in for the injured Yerry Mina and the stood-down Tom Davies.
Chelsea are very much in if-it-ain't-broke territory. Having beaten Aston Villa midweek, Frank Lampard names the same starting XI. Ross Barkley is back on the bench, though, just in time to revisit his alma mater.
Updated

11:32
The teams
Everton: Pickford, Sidibe, Holgate, Keane, Digne, Walcott, Schneiderlin, Sigurdsson, Iwobi, Richarlison, Calvert-Lewin.
Subs: Baines, Tosun, Bernard, Stekelenburg, Davies, Kean, Niasse.
Chelsea: Arrizabalaga, James, Christensen, Zouma, Azpilicueta, Kante, Kovacic, Willian, Mount, Pulisic, Abraham.
Subs: Jorginho, Barkley, Caballero, Hudson-Odoi, Batshuayi, Tomori, Emerson Palmieri.
Referee: Craig Pawson (South Yorkshire).
11:10
Preamble
The post-Marco Silva era begins here. This week, Everton became the second big club in 12 months, after Manchester United, to jib off their manager in the immediate wake of Xherdan Shaqiri running rings around them. Oh Powercube! How could you. Anyway, Duncan Ferguson takes temporary control of the Toffees today, as Everton begin their desperate search for a result that would take this grand old institution, last relegated in 1951, out of the drop zone.
They'll not be particularly pleased to welcome Chelsea this lunchtime, as the recent head-to-heads aren't great. True, they did win this fixture 2-0 towards the end of last season, Richarlison and Gylfi Sigurdsson scoring the goals. But that was against a Chelsea side in a hot funk during the dying days of the brief Maurizio Sarri regime. Before that, there were a couple of goalless draws. And before those, Chelsea won four in a row to the aggregate score of 12-1.
History isn't Everton's friend, and neither is the current form book. Everton have lost their last three matches, slightly unfortunately against Leicester but miserably against Norwich and Liverpool. They've only won two of their last six league games at Goodison. Chelsea by contrast have won five of their six away fixtures this season, only slipping up against the champions Manchester City, which is hardly a stick to beat someone with. It all suggests this should be Chelsea's day.
But football is football, and there's always hope. Frank's Freewheeling Fledglings aren't the finished product yet, as their recent loss at home to West Ham demonstrates. Everton meanwhile should take a little succour from the fight they showed at the King Power and Anfield, though much good it did them. And nobody in blue will want to disappoint Big Dunc, will they. Imagine going back into that dressing room after a comprehensive loss. Imagine the silence, punctuated only by his exhaling slowly through his nose. It doesn't bear thinking about, does it.
So can Everton haul themselves out of the relegation places? Or will Chelsea put on another roadshow? We'll find out soon enough. It's on!
Kick off: 12.30pm GMT.