00:59
New Zealand to move to lockdown in 48 hours
New Zealand's prime minister Jacinda Ardern just announced the country would move to a higher alert level – a three out of four – for the next 48 hours before the highest level of four is deployed, essentially shutting down the country.
All non-essential businesses are to close, schools will be closed from tomorrow, and domestic travel restrictions will be in place. The level four restrictions will be in place for at least four weeks.
Supermarkets, pharmacies and essential medical services will stay open.
"We are all now preparing as a nation to go into self-isolation," Ardern said.
"Staying at home is essential."
Updated

00:41
British musicians have already lost an estimated £13.9m (US$16m) in earnings because of coronavirus, according to a Musicians' Union survey.
The organisation, which has 32,000 members and is the main trade union for the sector in the UK, surveyed its members over the impact of the outbreak, and received more than 4,100 responses. Ninety per cent of respondents said their income had already been affected.
00:39
In the US, Donald Trump attempted to blunt growing criticism of the stalled federal response to the coronavirus crisis on Sunday night, promising that more help was on the way for states suffering a critical shortage of medical equipment, hospital beds and testing facilities.
As the death toll from Covid-19 in the US rose to 417, with more than 33,000 cases reported nationwide, increasing numbers of state and city leaders fired off warnings to the White House that a tipping point was near.
Warnings were particularly strong from New York, where cases have risen sharply past 15,000 and now account for around half of those in the US.
00:34
The New Zealand opposition party has suspended all election campaigning amidst the coronavirus crisis, saying the priority was now on supporting and working with the government in emergency efforts to clamp down on the spread of the virus.
"I have offered the Prime Minister my full support during this crisis, providing they move expeditiously enough. We will work in a supportive and constructive way in the interests of New Zealanders," said National Party leader Simon Bridges in a statement.
"I have also offered the Government the services of our MPs and staff to assist where we can.
"We want to do all we can to protect the lives and livelihoods of New Zealanders."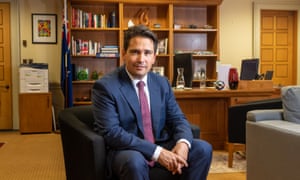 Bridges said he had been "inundated" with calls from doctors, scientists and health professionals, and strongly believed the country needed to be moved to alert level 4 – a total shutdown, as seen in Italy, France and Spain. Bridges had expressed this message to prime minister Jacinda Ardern.
"We won't regret moving quickly to stop this virus spreading. We may have regrets if we don't.
"We will support the Government where we can. But we won't always agree and we will continue to let the Government know when we don't.
"The Opposition will continue to play an important role to ensure the best decisions are being made in the interests of all New Zealanders. We won't be campaigning for the foreseeable future, however."
00:18
Japanese prime minister says postponing Tokyo Olympics could become an option
Updated

00:14
In New Zealand, the director general of health Dr Ashley Bloomfield said there were 36 new cases of coronavirus registered by 8am this morning, bringing the country's total to 102 cases.
Prime minister Jacinda Ardern will hold a press conference in 30 minutes and reveal more about the nation's alert level.
Dr Bloomfield hinted the country may move up a level, as two cases of the virus had not been ruled out as community transmission. There are four alert levels in New Zealand and the country is currently at level 2 – containing the virus. Level four would mean the entire country shut down, except for health and essential services.
"Of the cases today over half are directly related to overseas travel, most of the remainder are close contacts of a previously confirmed case or associated with an event where there were confirmed cases such as the Queenstown World Hereford Cattle conference," Dr Bloomfield said.
"More than 1,100 laboratory tests were carried out yesterday, bringing the total number of completed tests to over 7400."
"Most of our cases are still from people who have travelled to NZ from overseas."
00:12
The Australian market plunged more than 8% on Monday morning amid uncertainty over the effects of a shutdown of hospitality and entertainment operators announced by prime minister Scott Morrison on Sunday night.
Monday's losses are on top of more than a month of coronavirus-inspired selling that has already cut the value of Australian shares by a third.
Before the market opened, gambling company Tabcorp said its totalisator outlets and on-course betting, both of which are to be shut, accounted for about 28% of its revenue.
With this money now set to be ripped away, the company said it withdrew its previous profit guidance.
A raft of companies temporarily halted trade in their shares to give them time to respond to the new restrictions, including Star Entertainment, which operates Sydney's casino, and Retail Food Group, which is the franchisor of fast food outlets including Gloria Jean's coffee shops and pizza joints Pizza Capers and Crust.
Village Roadshow said it was closing Gold Coast theme parks Warner Bros. Movie World, Sea World, Wet'n'Wild and Paradise Country, but Sea World would remain open because it has a hotel.
Airline Virgin Australia, which along with rival Qantas has already slashed flights as travel restrictions bite, said it "expects a material reduction in its domestic capacity as a result" of new travel bans announced by state and federal authorities over the weekend.
00:02
Nearly one in three Americans under orders to stay home