00:46
New Zealand's director-general of health Dr Ashley Bloomfield announced 78 new suspected and confirmed cases of the coronavirus overnight (73 confirmed), bringing the country's total to 283.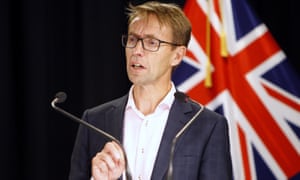 On average 1400 tests are being done everyday, and 27 people have now recovered from the illness. Seven people are being treated in hospital, though none are requiring intensive care.
Dr Bloomfield said stockpiling of medicines was becoming an issue around the country, and new measures would be brought in limiting supply to one month for general medicines, and three months for oral contraceptives.
"There is no issue with the medicine supply chain," Dr Bloomfield said.
"These are unprecedented times for New Zealand and other countries around the globe. We are all in this together. We will expect the number of cases to increase for at least the next ten days."
00:31
The Australian market has opened about 1.6% up even as more companies announced they were shutting down operations and standing down thousands of staff.
Job losses and stand-downs among Australian listed companies now total more than 65,000 since the middle of last week after retailer Premier Investments and travel agent Flight Centre laid off staff on Thursday morning.
Casino operator Star Entertainment Group was the biggest gainer among top 200 companies, rising more than 15% even though its operations are shut down due to the crisis.
Gold miner Northern Star Resources was the biggest loser, shedding 9% after it withdrew profit forecasts and cancelled its dividend.
00:26
New cases in China increase, all from abroad