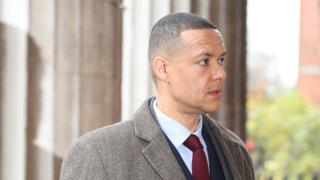 Shadow treasury minister Clive Lewis has become the second MP to officially enter the race to replace Jeremy Corbyn as Labour leader.
In an article for the Guardian, he said he feared "necessary truths may go unspoken" if he didn't put himself forward.
Shadow foreign secretary Emily Thornberry is standing, and others are expected to join the contest.
Mr Corbyn will stand down "early next year" after Labour's election defeat.
In his article announcing his candidacy, Mr Lewis praised the outgoing party leader for "inspiring a new generation of members."
Thornberry enters Labour leadership race
Who will be Labour's next leader?
But he said Labour was "never democratised on the scale" that members expected after Mr Corbyn won the leadership in 2015.
He distanced himself from the Blair and Brown years, saying that the party often had "the legacy of the 2000s thrown back in our faces".