Welcome to the Guardian's weekly Brexit briefing, helping you to keep abreast of the top stories of the past week in Brexitland.
First, the B-word. However detailed the budget that Philip Hammond laid out on Monday afternoon, he has already admitted that it is a bit of a placeholder, and will have to be torn up if there is no Brexit deal.
Big decisions on tax and spending are more likely to take place after the direction of travel on Brexit is known, with expenditure expected to be earmarked for the moment the UK leaves the EU. This would mitigate against any downward trend but the message from Downing Street until then will still be the good times are to come.
Producing the Guardian's independent, in-depth journalism takes time and money. We do it because we believe our perspective matters and it may be yours, too. If you value our Brexit coverage, please become a Guardian supporter. Thank you.
Top stories
Will the beginning of the end for Angela Merkel in Germany have an impact on Brexit negotiations, many will ask this week. Brexiters will be certain to draw the conclusion that it will.
While her grip on the party may be loosened and the German coalition government under pressure, sources in Brussels say it will not unsettle the EU27 in negotiations. Brexiters may draw other conclusions.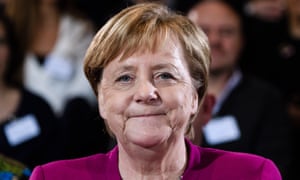 Meanwhile, the clock ticks on the Brexit negotiations. In her first statement to the House of Commons since the October EU council summit, May again called for unity, assuring MPs the deal was 95% done.
The 5% she confirmed was the Irish border problem, which has proved a bigger and bigger obstacle after the DUP said they would not accept checks in British ports of any kind.
Two weeks after negotiations were "paused" by Dominic Raab on his Sunday visit to Brussels, the secretive "tunnel" talks have yet to resume.
Communication between Britain's most senior official, Olly Robbins, and Michel Barnier's deputy Sabine Weyand are said to be constant and some lower-level meetings have taken place since the October EU council summit, but the intense phase of negotiations has not resumed yet.
Mid-week, Donald Tusk shed more light on the origin of the idea that the transition period could be extended. It wasn't the EU's idea, it emerged. It was May's.
Back at home, clarity on Brexit remains in short supply. May confirmed in parliament that she was considering a short extension to the transition period in a bid to break the impasse over the Irish border.
However, she laid down four new conditions, or red lines, for a border deal and in doing so sowed more confusion than constructive progress. One of her "steps" to a deal is a legally-binding UK-wide customs arrangement in exchange for a backstop.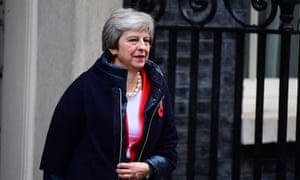 But the EU and Ireland say these are not commutable and a backstop must remain in the legally binding withdrawal agreement to guard against a hard border in all circumstances.
The Gordian knot may be tightening, but there was also talk of a "bridge" between the withdrawal agreement, which is legally binding, and the political declaration, which is not.
One draft of a new idea posits the idea of a customs-wide arrangement being given legally binding status is a separate treaty that would link the two, as our Brussels bureau chief Dan Boffey explains at the end of this analysis.
Jeremy Hunt, the foreign secretary, Liz Truss, the chief secretary to the Treasury, and Michael Gove, the environment secretary, voiced their concerns over a time-limited backstop at a stormy cabinet meeting midweek, while cabinet secretary David Lidington warned that no deal would be as bad as Black Wednesday.
It could also mean the price of mince meat going up 50%, according to the meat industry.
Earlier the Northern Ireland secretary and May loyalist Karen Bradley said the government would not renege on its commitment to the backstop while the Irish ambassador to the UK warned a backstop with a time limit is not a backstop.
One solution, which seems to be growing in popularity among some Brexiters, is for the UK to dump the Chequers proposal and simply go straight to the European Economic Area model and then pivot to a deal after, say, five years.
The idea was first suggested by Nick Boles, the Tory MP and former minister who is a close ally of Gove. It was backed by William Hague, the former foreign secretary, and Nicky Morgan, the former education secretary, and now has the backing of Labour rebel Frank Field.
On Friday it emerged that Britain's future post-Brexit had suffered a setback after it emerged that around 20 countries including Russia had blocked an attempt by the international trade secretary, Liam Fox, to fast-track a World Trade Organization deal on the UK's terms of trade with the world.
Best of the Rest
Jeremy Corbyn asked to back a second Brexit vote
EU must prepare to delay Brexit, London mayor tells Barnier
Difference between hard and soft Brexit is now £15bn
Young people may lose £108,000 over 30 years because of no-deal Brexit
NFU concerned over sweeping powers of new agriculture bill, biggest reform since 1947
Conservative party's most senior MEP makes "shameful" link between German socialist group and Hitler
Brexit's 'doom loop' and the DUP's red lines
Opinion
This budget may not survive the Brexit hurricane – Matthew d'Ancona



But we are living in one of those phases in politics where cliches regain their original force. It is now more than conceivable that the DUP, perhaps in alliance with a few hard Brexiteer Tory MPs, could vote down the budget.
Arlene Foster has no mandate to push for a hard Brexit – Conor Gearty



The leader of the previously hegemonic Ulster Unionist party, Robert Swann, said last week that the DUP had taken unionism "into the gutter". At his first conference as leader the year before he had warned that a "hard border" was not an option during free trade negotiations, and that a badly handled Brexit created a "real danger of returning to the politics of the past".
Top tweet
I sleep in Northern Ireland, but my living room is in the republic – schoolgirl explains Brexit